Multicultural Center History
The development of a multicultural center at Michigan State University has been the subject of calls from students for more than a half century.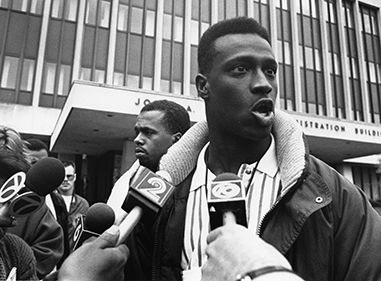 During the civil rights movement, protests sparked by the demands of Black students with the support of faculty and staff entered the public discourse across the country and at MSU. Demands included increasing racial and ethnic minority representation on college campuses and served as a catalyst for MSU to become more diverse.
In the 1960s, President John A. Hannah expanded equal opportunity and academic support programs. In the 1970s, President Clifton R. Wharton Jr. led the establishment of formal advisory groups for underrepresented groups, namely women. 
After student protests and the 1989 Study-In — the 10-day demonstration at the John Hannah Administration building — Provost David Scott and President John A. DiBiaggio developed the first draft of MSU Institutional Diversity: Excellence in Action, or IDEA.
The 1992 MSU IDEA 2.0 initiative offered a plan to support institutional excellence through diversity that included 50 proposed actions in leadership and administration; recruitment and retention of students, staff and faculty; instruction, research and outreach; and campus climate. Included was a recommendation to "initiate efforts, as resources permit, to create a Center for a New Community, a multicultural center dedicated to diversity and excellence on campus."
Establishment of the First Multicultural Center Spaces
In the 1990s, coinciding with the formation of the Council of Racial and Ethnic Students, or CORES, activism for a freestanding multicultural center became more continuous on campus. On April 12, 1995, CORES presented a proposal to MSU's administration detailing the specifications for the building.
In 1997, President M. Peter McPherson, after consultation with the board of trustees, agreed to find a space for a multicultural center. Two sites were offered as possibilities — the basement of the MSU Union or Wills House. Then-Vice President for Student Affairs and Services Lee June, along with leaders in the Office of Facilities and Space Management, worked with students to visit and consider the possible locations. 
After intense deliberations between CORES and Vice President June, students indicated that they would accept the space in the Union. However, students made it clear to the administration that they were not pleased with this offer but would accept it as a first step toward the establishment of a freestanding building in the future. Vice President June and previous Director of the Union Jim Shepard, among others, worked with CORES to design and renovate the space.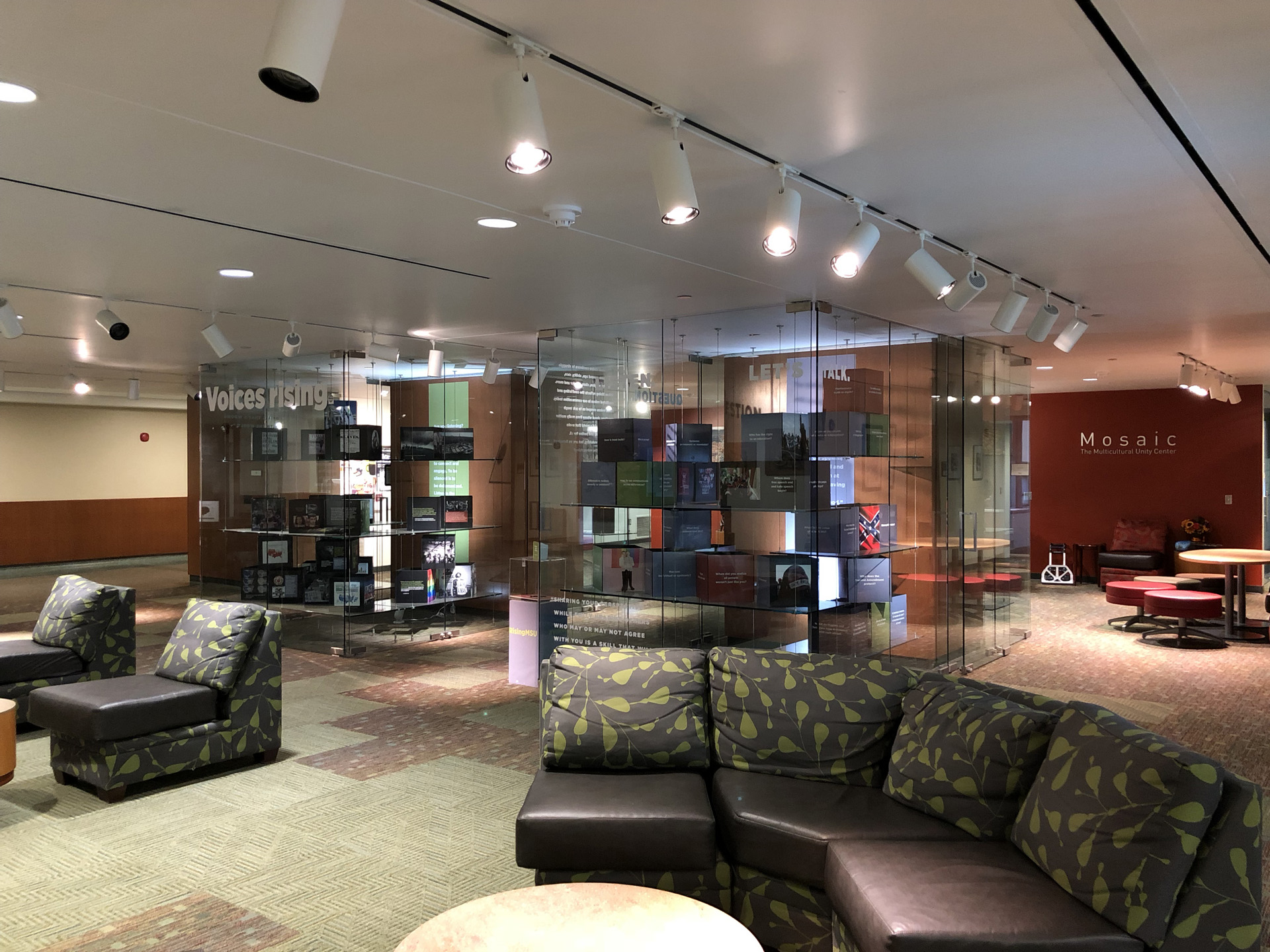 The first campus multicultural center initially opened in January 1999 in the basement of the Union. It included a meeting space, resource room, student gathering space and director's office.
Within a few years of opening the center, CORES leaders and other students-of-color leaders continued to voice their concerns about not having sufficient space and the fact that the center was not freestanding. Student leaders found the existing center inadequate as an academic, co-curricular and social gathering space.
During the early 2010s, CORES leaders, and in particular, Mario Lemons, president of the Black Students' Alliance, or BSA, held campuswide rallies and marches to bring awareness to the fact that the space in the basement continued to fail to meet the needs of various underrepresented student communities.
Former President Lou Anna K. Simon agreed to move the center from the basement of the Union. Vice President for Student Affairs and Services Denise Maybank and director of the center Maggie Chen Hernandez worked with students in designing a new space. Thus, in 2013, the multicultural center moved to the second floor of the Union. The space was renamed MOSAIC: The Multicultural Unity Center to broaden the inclusion of more identity- and affinity-based student communities. In addition, it included a multipurpose room, formal and informal student group meeting and work space, student group storage, a reception area and a director's office.
Although a good next step, when MOSAIC opened, several student leaders shared that they wouldn't stop advocating until MSU built a freestanding multicultural building on campus. While MSU moved the center to a more prominent location within the Union, limited space issues remained. 
Campus Climate and Cultural Change
In the 2018-19 academic year, Sarah McConville, the chief diversity and inclusion officer for the MSU Residence Halls Association, started an online petition for a multicultural building on campus. The petition became a rallying point and helped spur activism around the need for a dedicated space. As a result, students formed the Students for a Multicultural Building organization led by Co-Chairs Tammi Cervantes and Miracle Chatman. Cervantes and Chatman would then create a committee with student leaders Sharron Reed-Davis, BSA president and CORES and the Council of Progressive Students, or COPS, representative, and Shiksha Sneha, Associated Students of Michigan State University representative, to elicit demands further.
In fall 2019, tensions increased following racial bias incidents on campus. BSA partnered with CORES and COPS leaders to strengthen voices and created a list of demands. Many different student organizations joined in solidarity, including MSU's NAACP Collegiate Chapter, as well as student groups at Eastern Michigan University and Wayne State University.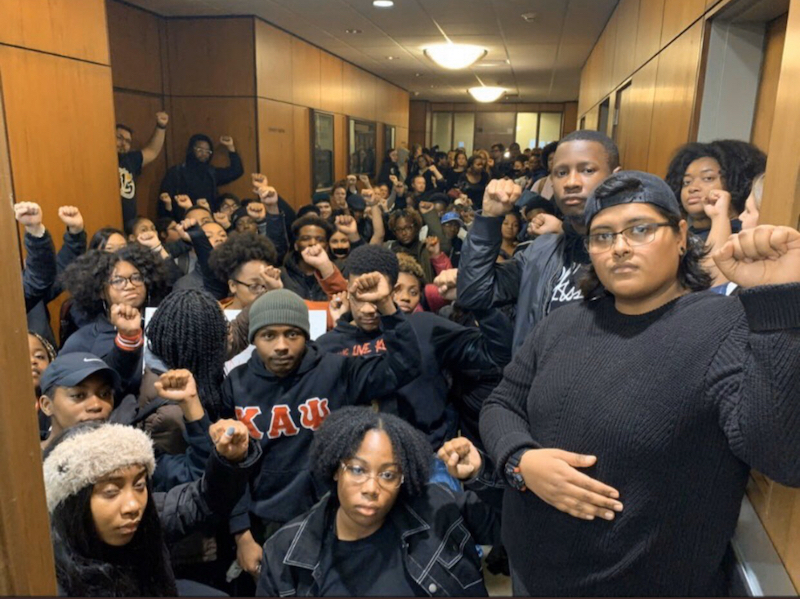 Following three days of organizing, more than 100 students joined a sit-in on the fourth floor of the Hannah Administration Building. Student leaders submitted a 10-point plan for diversity, equity and inclusion to incoming MSU President Samuel L. Stanley Jr., M.D. Students Dante Booker, political affairs director of BSA, and Lesly Morales, chair of the Alliance of Queer and Ally Students, led negotiations with the administration. Among the demands was the establishment of a multicultural center building.
As part of new leadership and in response to students, President Stanley appointed a steering committee in late 2019 to begin a feasibility study for a multicultural center. The study was in tandem with establishing the Diversity, Equity and Inclusion Steering Committee as part of a comprehensive planning process. Prominent early administrative involvement included Senior Vice President of Student Life and Engagement Vennie Gore, who is leading current efforts, as well as Senior Adviser to the President for Diversity Paulette Granberry Russell and Vice President and Associate Provost for Student Affairs and Services Denise Maybank.
In addition, due to the COVID-19 pandemic exacerbating racial disparities and the murder of George Floyd increasing national and racial tension, there were escalated calls to address racial bias incidents and safety concerns on campus. As a result, in August 2020, President Stanley summoned the Task Force on Racial Equity to parallel MSU's DEI efforts.
Survey data indicated that underrepresented and under-resourced students experience MSU's campus less favorably than white students. In addition, students past and present and other members of the campus community articulated that MSU has not adequately addressed longstanding issues of bias, inequities, campus climate and the need for cultural change.  
In September 2021, following the results of the feasibility report, the MSU Board of Trustees approved the planning phase of the project, marking the first tangible steps toward construction.  
Then, in January 2022, MSU selected SmithGroup, one of the nation's top higher education and cultural facility design firms, to facilitate the design process with students and community stakeholders. By April, the steering committee identified the site for the building on the northeast corner of North Shaw and Farm lanes. Under Vice President Gore, MSU is on track for the groundbreaking of the 32,700-square-foot multicultural center in 2023-24.
All monochrome images: Michigan State University Archives and Historical Collections