Multicultural Center History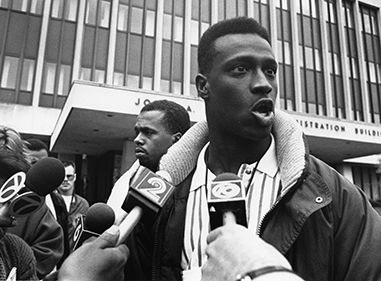 The development of a multicultural center at Michigan State University has been the subject of calls from students over many years.
During the Civil Rights Era, student protests sparked by the demands of black students with the support of faculty and staff entered the public discourse across the country and at MSU. Demands often included increasing racial and ethnic minority representation on college campuses, and such protests served as a catalyst for MSU to increase efforts to become more diverse.
Those included efforts to increase diversity among students and faculty in the 1960s under President John A. Hannah, the expansion of equal opportunity and academic support programs and formal advisory groups for minorities and women under President Clifton R. Wharton Jr., and, after student protests and sit-ins in 1989, the first draft of the MSU IDEA (Institutional Diversity: Excellence in Action) under President John A. DiBiaggio.
The 1992 MSU Institutional Diversity: Excellence in Action (MSU IDEA II) initiative offered a plan to support institutional excellence through diversity that included 50 proposed actions in leadership and administration; recruitment and retention of faculty, students and staff; instruction, research and outreach; and campus climate. Included was a recommendation to "initiate efforts, as resources permit, to create a Center for a New Community, a multicultural center for students, faculty and staff dedicated to diversity and excellence on campus."
New strategies and interventions evolved since to make the campus a more welcoming and supportive space for those who live, learn and work here.
Campus climate and cultural change
Recent survey data indicates that minority students experience MSU's campus less favorably than non-minority students. These findings are not unique to MSU, as minority students, including racial and ethnic minorities in predominantly white institutions across the country, have reported similar perceptions.
Students past and present, as well as other members of the campus community, have articulated the view that MSU has not adequately addressed longstanding issues of bias, inequities, campus climate and the need for cultural change. Over the years, students from diverse cultural backgrounds have urged MSU to consider a freestanding multicultural center.
Multicultural Center feasibility study
The current campus multicultural center initially opened in January 1999 in the lower level of the MSU Union. It included meeting space, a resource room, student gathering space and a director's office. In 2014 the multicultural center moved to the second floor of the MSU Union and was renamed MOSAIC: The Multicultural Unity Center. It includes a large multipurpose room, formal and informal student group meeting and workspace, student group lockers, a reception area and the director's office. Immediately adjacent are an informal seating area and display cases for showcasing cultural items and electronic displays for curating stories and events.
That space is inadequate as an academic, cocurricular and social gathering space for all students from the perspective of various contemporary MSU student leaders, including students who make up the Council of Racial and Ethnic Students and Council of Progressive Students.
In response to such exchanges and inquiries, Office for Intercultural Initiatives Director and Senior Adviser to the President for Diversity Paulette Granberry Russell drafted a report outlining considerations associated with a campus multicultural center to submit to MSU President Samuel L. Stanley Jr., M.D. A steering committee subsequently was formed and a planning committee was appointed in late 2019 to begin a feasibility study for a potential new campus multicultural center. This website tracks the progress of that study.
All black-and-white images: Michigan State University Archives and Historical Collections